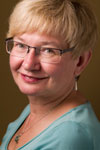 Alicja Maria Kuberska
Poet
Alicja Maria Kuberska was born in 1960 in Świebodzin, Poland. She now lives with her family in the spa town of Inowrocław. She works full-time for the local town hall. In her spare time she does voluntary work for the Music Society Pro Arte and for the Society of Sister-Cities Inowrocław and Bad Oyenhausen (Germany). She is involved in many charities, and of course, she writes.
In 2011 she published her first volume of poems, "The Glass Reality". Her second volume, "Analysis of Feelings", was published in 2012. The third collection "Moments" was published in English in 2014, both in Poland and in the USA. In 2014 she also published a novel – "Virtual Roses" – and another collection of poems "On the Border of Dream".
Her poems have been published in numerous anthologies and magazines in Poland, the USA, the UK, Canada, India and Australia. She was the featured poet of New Mirage Journal (USA) in the summer of 2011. Her poem Train was nominated for the Pushcart Prize in 2011. In 2014 her poem was mentioned in the international competition Nosside. Her poems are read on various radio programmes in Poland and in Belgium. She has given a large number of interviews for Polish and American magazines and newspapers.
Alicja has written eight monodramas and a play for teenagers. The monodrama "Cousin" won the first prize in Kołobrzeg in 2013.
Alicja is a member of the Polish Writers Association in Warsaw. She is one of two editors of the artistic-literary quarterly journal Metafora published by Miniatura, Kraków.
Her poems are included in various online literary magazines, and can be viewed on her Facebook page.