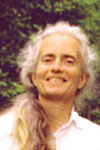 Mirabelle Maslin
Author & psychotherapist
Mirabelle Maslin was born in Birmingham in 1947, but moved to Bramhall, Cheshire in 1952. She studied agriculture at Reading University, after which she worked in scientific research near Edinburgh until the birth of her three children - two sons and a daughter.
Since then she has spent more than twenty years helping people with emotional and relationship problems, together with providing nutritional advice when requested.
She began writing in 2001. Tracy was the second of her books to be published and the first book from Augur Press. The writing of Tracy was specifically requested by a young friend who had recognised the value of Mirabelle's attitude towards young people and their dilemmas.
Further Information:
BSc(Hons) in agriculture
Associate Member of the Institute for Optimum Nutrition (ION)
Member of the International Society of Professional Counsellors. (MISPC)
Diploma in counselling (Dip RCCST)
CCC Reg
You can learn more about Mirabelle Maslin by visiting her website.
Read an interview with Mirabelle Maslin published in The Scotsman.
Read an interview with Mirabelle Maslin about her book Infants and Children.
Books by Mirabelle Maslin and published by Augur Press: