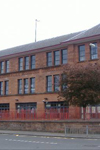 The pupils of
Craigton Primary School
Craigton Primary School in Glasgow aims to provide a broad and balanced curriculum which allows each child to develop and progress at his/her own rate. For many years the school has enjoyed a reputation of high educational standards. Having high, but realistic, expectations of their pupils, both in terms of working hard in class and life outside the classroom.
The school encourages its pupils to take care of their surroundings, to be helpful and polite and to consider the needs of others.