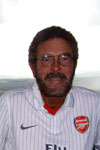 Steve Cameron
Author & journalist
Steve Cameron is an American journalist who has written 14 books, in addition to working for newspapers and magazines in the United States, Great Britain and Qatar.
Born and raised in San Francisco as the grandson of well-known Scottish engineer Francis Gordon — who led design of the original Aswan Dam in Egypt — Steve began his writing and communications career in the Midwestern US. He eventually became an author, radio talk-show host and international conference moderator.
An American citizen with permanent UK residency, Cameron currently spends his time in northern California, Kansas City and the Moray Coast of Scotland.